The April 2017 issue of the PTA Newsletter is now available on the Newsletter Tab.
Teacher Appreciation Week is May 1st – 5th.  #ThankATeacher
Be sure to send in a special note or drawing showing your appreciation!
Print out this card if  you like: 2017 Thank A Teacher Card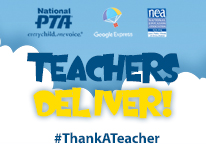 Originally scheduled for May 4th, the Final General Membership PTA Meeting of the school year has been rescheduled for May 31st.  Please Attend!  We must approve changes to our Standing Rules and elect a new executive board.  Your voice and vote are needed!!
Wed. May 31st @ 7pm
(Exec Brd at 6pm)
at Lopatcong Middle School